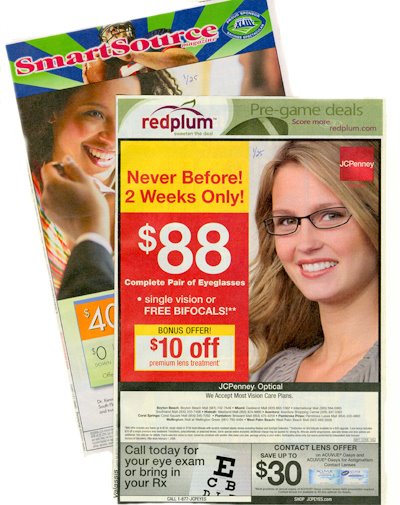 Every week I get this emailed to me , so I know roughly what will be in my Sunday paper! You can also sign up to get these updates, at the bottom of the list there is a link to the website you click on it and you will be redirected then all you have to do is put in your email address! and wallah you will be emailed the coupon inserts !
6-27 Smartsource coupon insert (
6-27 Redplum insert
)
Sunday coupon preview
Regional coupon inserts & value differences are to be expected!
(/X) after coupon = expiration date
() before coupon = multiple of same coupon
ETS = excludes trial sizes
DND5 = coupon states Do Not Double, but barcode starts w/a 5
Smartsource coupon insert
Banana Boat Suncare product, 4oz+ Save $1.00/1 (9/6)
Betty Crocker Box Supreme Brownie Mix Save $.75/2 (8/21)
Betty Crocker Suddenly Salad Mixes Save $.50/2 (8/21)
Betty Crocker Warm Delights Bowls or Mini Bowls Save $.75/1 (8/21)
Breyers Ice Cream 48oz Save $.75/2 (7/25)
Butterball Turkey Franks, Turkey Sausage, Turkey Bacon or Lunchmeat items Save $1.00/2 (8/31) DND5
Cheerios, Original in the Yellow Box Save $.50/1 (8/7)
Chock Full o'Nuts Save $.75/1 (8/31)
Colgate Adult or Childrens Toothbrush, excludes Colgate Plus or Extra Clean Save $.75/1 (7/17)
Colgate Toothpaste, 4oz+ Save $.75/1 (7/17)
Cool Whip Whipped Topping Save $.20/2 (7/25)
Crystal Farms Cheeses Save $1.00/2 (8/31)
Dole Pineapple cans Save $1.00/3 (9/30)
Edge Shave Gel Save $.75/1 (7/25)
Edwards Singles Save $.75/1 (9/30) DND5
Finish Dishwasher Cleaner Save $.40/1 (8/22)
Finish Jet-Dry Rinse Agent or Turbo Dry Save $.40/1 (8/22)
Finlandia Cheese, 6oz+ Save $.55/1 (10/31) DND5
Grande Tortilla Chips Save $1.00/1 (9/30)
Hawaiian Tropic Suncare Product, 4oz+ Save $1.00/1 (9/6)
Heinz 57 Steak Sauce made with Lea & Perrins Save $2.00/1 (7/25)
Heinz Vinegar 32oz or smaller Save $1.00/2 (8/31)
Heinz Vinegar, 64oz+ Save $1.00/1 (10/15)
Hershey's Milk Chocolate 6pk AND Honey Maid Grahams 14oz+ AND Kraft Jet-Puffed Marshmallows 19oz+ Save $1.00 wyb 3 (9/30) DND5
Hershey's Syrup Bottles, 17oz+ or Hershey's, Reese's or Heath Toppings, 4oz+ Save $1.00/3 (7/25)
Kikkoman Teriyaki Sauce or Glaze bottle Save $.55/1 (12/31/10)
Lanacane Spray, Cream or Anit-Chafing Gel Save $1.00/1 (9/12)
Lea & Perrins Thick Classic Worcestershire Sauce Save $2.00/1 (7/25)
Litehouse product Save $.55/1 (10/31) DND5
Lloyd's Ribs or Tub Save $.75/1 (9/6)
MacuTrition Eye Vitamin for Vision & Health Save $7.00/1 (9/30) ETS
Off! Clip-On Mosquito Repellent Refills Save $1.00/1 (10/2)
Off! Clip-On Mosquito Repellent Starter Save $1.50/1 (10/2)
Pepperidge Farm Deli Flats Thin Rolls Save $.60/1 (9/19)
Pillsbury Crescent Dinner Rolls Save $.40/2 (9/18)
Playtex Gentle Glide products, 18ct+ Save $2.50/2 (8/8)
Playtex Personal Cleansing Cloths product Save $1.00/1 (8/8) DND5
Playtex Sport plastic applicator tampons, 18ct+ Save $1.00/1 (8/29)
Prevacid 24HR product Save $4.00/1 (7/25)
Purina One Brand Dry Cat Food, any size/variety Save $2.00/1 (7/27)
Purina One Brand Dry Dog Food, any size/variety Save $2.00/1 (7/27)
Resolve Bright & White product Save $1.00/1 (8/8)
Resolve High Traffic Foam product Save $1.00/1 (8/8)
Resolve Laundry Pre-Treat product Save $.50/1 (8/8)
Resolve product Save $1.00/1 (8/8)
Revlon Colorsilk products Save $1.00/2 (7/25)
Revlon Frost & Glow product Save $2.00/1 (7/25)
Sabra Variety, 8oz+ Save $1.00/1 (8/15)
Schick Disposable Razor Save $2.00/1 (7/25) ETS
Schick Quattro for Women or Intuition Plus Razor or Refill Save $2.00/1 (7/25) ETS
Schick Quattro Titanium Razor, trimmer or Refill Save $4.00/1 (7/25) ETS
Skintimate Shave Gel or Cream Shave Save $.75/1 (7/25)
Swanson White Premium Chicken Breast cans Save $.50/2 (9/19)
Swiss Tea, 1 Gallon or 2 Half Gallons Save $.55 off (8/15)
Total Cereal Box listed: whole grain, raisin bran, cranberry crunch, blueberry pomegranate, cinnamon crunch, plus omega-3s honey almond flax Save $.75/1 (8/7)
Twizzlers Candy bags, 8oz+ Save $1.00/3 (9/30)
Wet Ones Canister or Box of Singles Save $.50/1 (7/25)
Yoplait YoPlus Yogurt 4pk Save $.50/1 (8/21)
thanks to
http://www.sundaycouponpreview.com